(Artificial Intelligence Realized)
After Google Cloud Next 2018, Google realized that they needed to have a more focused conversation about AI. Like ... what is it? How does it work? What can it do for people? And why does it feel so scary?
This was the central challenge of their brief: to humanize it and make it feel tangible. Even though we were going to be discussing highly complex computational science we didn't want for people to feel intimidated by tech talk or code and instead think more empirically on how AI can enhance, empower and create efficiencies for you and your work. Not in the distant future, but now. So we invited everyone to join us and ...
This was my touchstone for the overall creative: AI is already a part of how we exist in our increasingly digital world. 

Focus on what's happening now, point out the ways that Artificial Intelligence and Machine Learning are already enhancing our lives - for instance, anyone who has used spellcheck or directions on a Maps app has used AI. Then look at real world case studies to show how AI is being put to future use through the lens of how Google Cloud customers.
With strategy team mates Christina Houghton and Nick Fasulo and a close collaboration with our client partner Bobby Lancaster, I designed and created an immersive narrative experience, anchored by opening and closing presentations, featuring breakout sessions on verticals that progressed from basic to crazy advanced, utilizing practical business problems to illustrate integrating emerging technologies: as told by customers partnered with their Google engineers and developers who explained their stories through hands on demonstrations, metaphorical illustrative sculptures and practical tutorials.
Starting from the foundation of Google Cloud's "Cloudstyle" look and feel, my task was to start from those elements to highlight the idea and mechanics of Artificial Intelligence in an intuitive way that still embodied their fun and friendly brand voice. Working from early motion graphics development, I took inspiration from recaptchas, using abstracted framings of the letterforms of "AI" and presenting them in playful arrangements as our primary branding lock up. We kept screens in horizontal and vertical arrangements primarily to mimic personal digital screen experiences, providing information in landscape and wayfinding and prompts in portrait.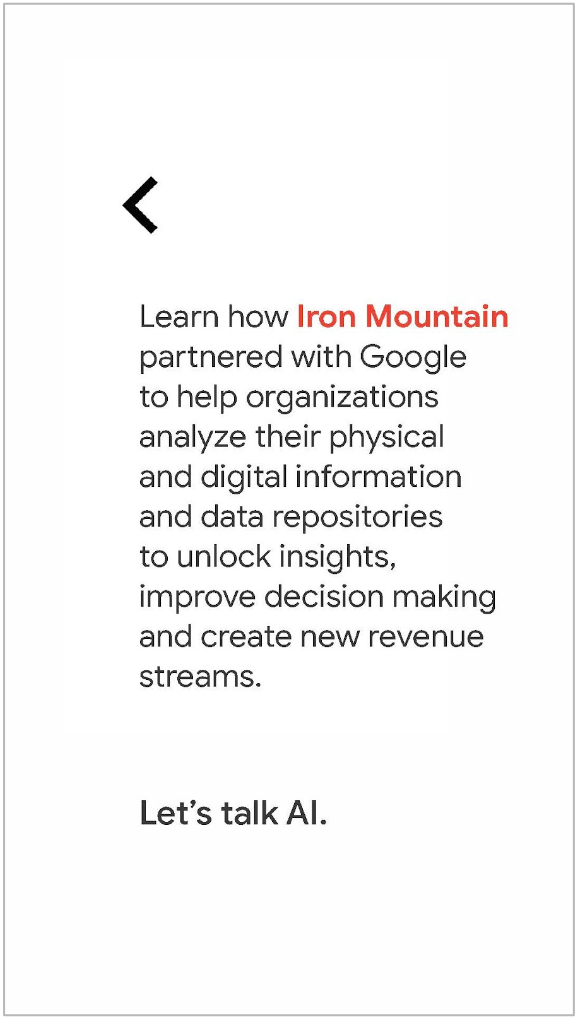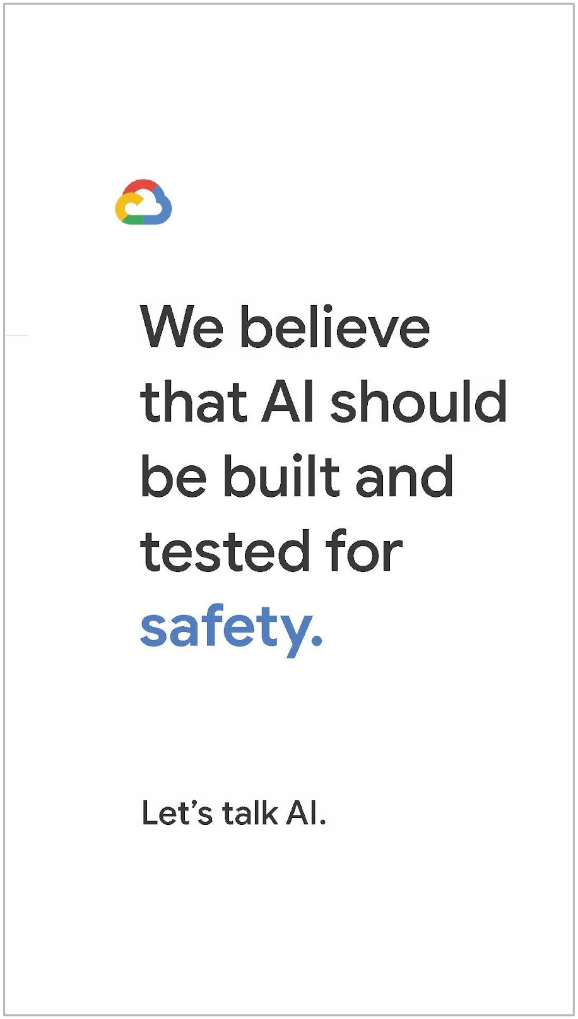 ​​​​​​​
Environment Design
When we secured Pier 35 on San Francisco's storied waterfront, environmental designer Camille Connolly and I took a linear approach to how our audience would make their way through the day's curriculum.
Upon arriving, we didn't want to be overt with Google branding. We wanted to have some visual reference that our audience would recognize, but nothing that would necessarily invite interest from casual foot traffic. I wanted it to feel more like a portal that progressively brought you in to a new space, separate from the hurly burly of San Francisco. 
A two piece sculptural entryway, utilizing white slats overlapped to create a capital A and a capital I, with milk plexiglass and "scrolled" colored backlighting as our brand ambassadors welcome our audience.
Once attendees walk through the entryway, they will see a long registration table branded with Google colors and friendly, inviting text ("Hiya."). Groups of brand ambassadors will be stationed behind this table to facilitate an expedited check-in process for guests, who will each be handed their registration items: a name badge, an agenda of the day ahead, and a map guiding them through the demo showcase.
Behind the registration desk, attendees will see a series of rotating messages and questions, written from the customer's point of view, to provoke thought around the day's core message: Let's talk about AI.
From the initial input, our intent was to diminish the perceived distance between our audience and the story. To that end, we created an intimate conversational keynote space: by utilizing a multi-level tiered thrust to minimize the distance between the speaker and the furthest audience seat, and then widen out the screen, the speaker never felt disconnected from the content they were presenting.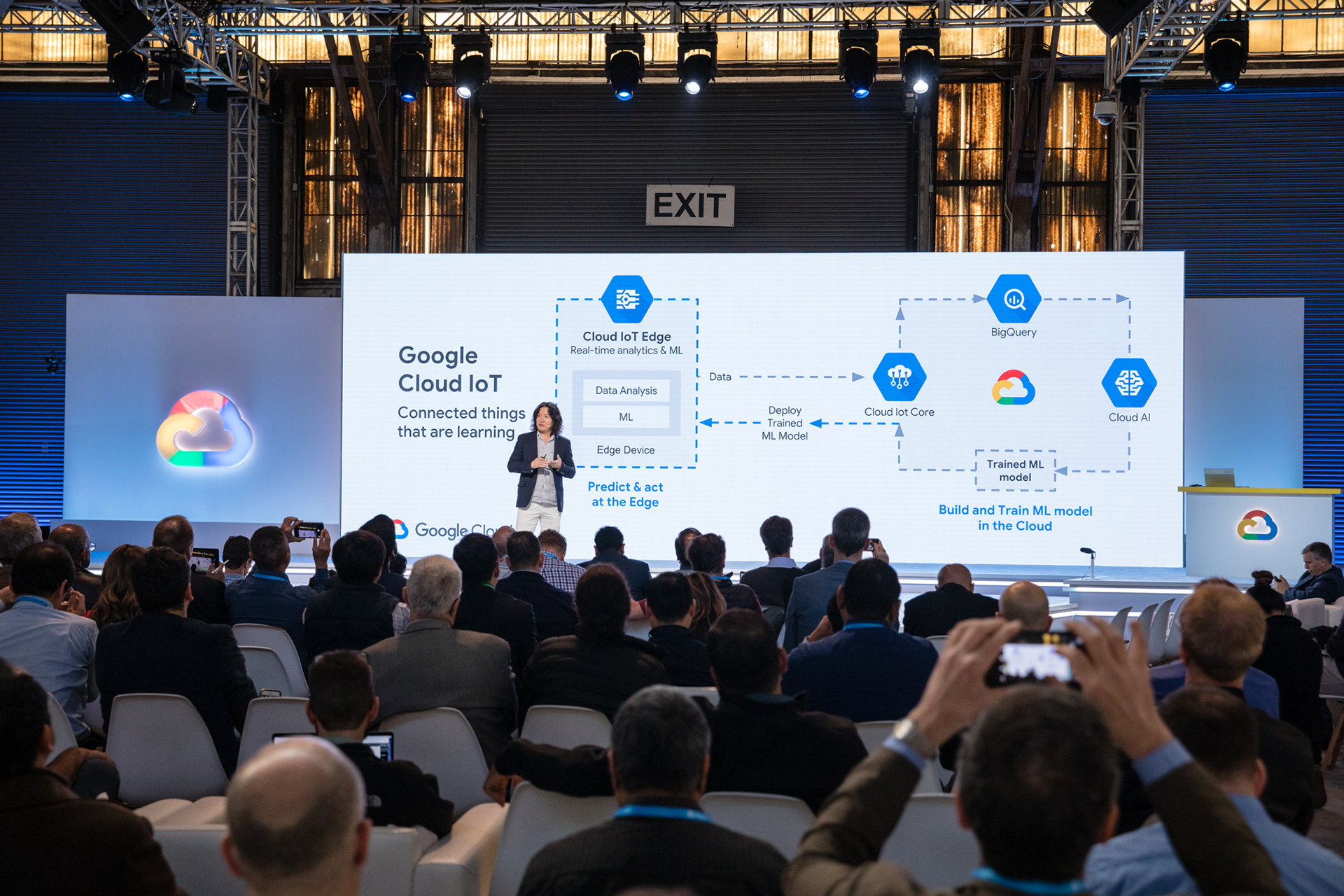 The crown jewel of Camille Connolly's overall environment design, the speakers would "step down" "into" the gathering space to have these conversations with the audience rather than in front of them. This intimate arrangement proved wildly successful and led to engaged and vibrant Q&A interactions after every session.
07 - 11  AI Building Blocks
Beyond the keynote, our audience will explore an open campus style experience with all Demo areas available. Their first encounter is a series of expo stands highlighting the basics - starting with platforms upon which you can set up your AI and Machine Learning workflows, and the building blocks upon which to stitch together a customized solution to fit your particular needs. Highlighted presentations used waterflow and aviation data to illustrate the power of big data once you have the instruments to unpack it to provide real time insights and predictions.
12  Information Booth & Let's Talk area
To one side of the flow between the keynote and the demo areas will be an area of mixed seating for Googlers and Partners to be available for questions about AI and to provide guidance. This is also where impromptu access to meeting rooms in back are scheduled and arranged between accounts, sales and technology leads.
The first of four Google Cloud Customer Story open air breakout spaces, we created a vibrant canvas that predicated the story of how Emory University is using Google Cloud AI to help nurses monitor patients and use that data to forecast and prevent patient sepsis. And as a result, save thousands of lives. 40 actual EKG monitors ran recorded patient data loops to give the space a live vibrant electric energy.
For Siemens, we wanted to give some immediacy to the feeling of being overcome by an avalanche of talent: while every candidate was unique, it's hard to see what makes them special. With our backdrop of 3D printed silhouettes of prospective talent, we focused on how Siemens connects candidates to teh right jobs and improves the recruiting experience through machine learning and keyword targeting.
We took a deep dive into how Ocado is using predictive maintenance to make sure all of it's autonomous warehouses run more efficiently through Google Cloud AI - our stand provided us with an intimate immersion into the practical situation - along with an appearance from our star - the Ocado automated robot.
17 - 19  Operations & Finance, Sales Service Marketing Demos
Operations and Finance departments churn out a lot of data and there are better ways of putting that data to work to make sure that you're seeing the trends from the top to the bottom of your workflow. Individualized demonstrations of various Operations-focused AI tools come together to spark ideas on how you can customize AI to your particular needs.
Iron Mountain is a brand that every corporation knows. They have been the gold standard for information archives and corporate compliance for decades. But in a new digital age, Iron Mountain is helping it's customers find and discover new insights from physical and digital documents with Machine Learning and Language Data APIs. So we put our audience literally into that situation - surrounded by archives and documents and looking for a solution.
Audience development for movies and episodic IP determine budget allocations across platforms and markets. Through Learning Engines and Data parsing, 20th Century Fox is creating more personalized movie going experiences by scaling audience targeting from single instances to global.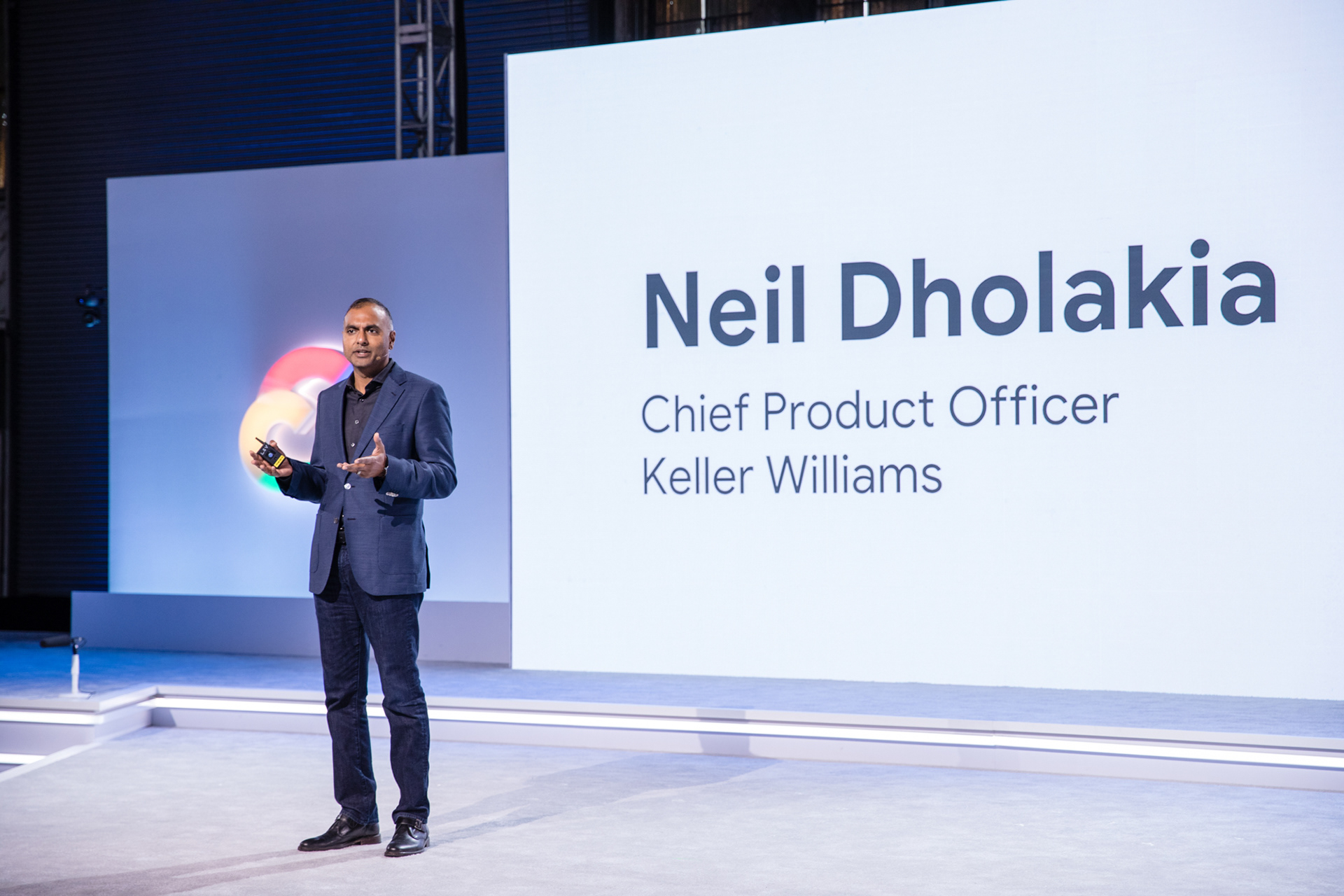 Fun fact ... our original pitch was of a multi-level building providing complete immersion into each sector.